Break out your graphing calculator... baseball is back! That means I can get down to the only kind of math that I can stand doing... Saber-metrics and Box-Score Analysis. Good news is that the
Mets
new pitcher might be able to check my work to make sure I carried the 2.
O'

Jenrry

-
Jenrry
Mejia looked very sharp in his spring debut but I do have a complaint. He did seem to get ahead of hitters but he seemed to consistently let them back into the at-bat by letting the count go to full. I think that the
Mets
will certainly be thinking about him in the rotation sooner than later.
Beato

My Own Drum -
Pedro
Beato
got into trouble but also displayed his electric stuff. I think that he's certainly someone to watch.
Attention F-Mart Shoppers -
I watched Fernando look like an eternal prospect and also... turn on a pitch and take it yard. Fernando by no means needs to WIN a job this spring but he does need to prove he can be healthy. He's likely to be called up if there are injuries but the key to his season is health.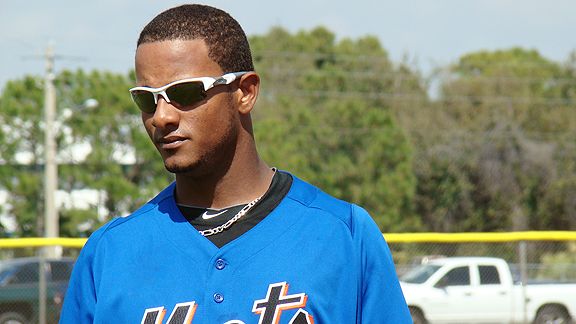 Valdespin

Cycle -
Jordany
was the player who impressed me the most. (Besides Castillo and
Hu
who I'm still trying my best to hate.)
Valdespin
looked sharp playing 2B and at the plate he really looked like he was far more developed then I thought he'd be. I would say he looked like he was ready to be in the running for the 2B competition.
The Young and the Tall -
Chris Young is tall... we get it. I'm getting a little bored with people pointing it out. Can we trade for John
Rauch
so people stop mentioning it? Anyway... yeah... he looked like he might be good enough to sit closer to the front of the rotation... but it's early.
Ollie Still Ollie -
Perez looked bad, but nobody was surprised. I'd say he
get's
one more chance to start and then MAYBE two chances to relieve.
What Might

Ultim

-

Utley

Kill the

Phils

-
Utley's
knee is hurt and he's looking at a
cortisone
injection. This isn't like Wainwright's injury but he will put some questions in regards to an offense that some writers mistakenly deem a given. Let's look at facts:
Victorino
is good but not GREAT, Rollins looked like a shell of his former self last year,
Utley
has health concerns, Howard has some health issues (don't buy that he's declining),
Ibanez
is old enough to be Brown's father, Brown is ENTIRELY
un
-proven,
Polanco
is a giant health risk, Ruiz is only pretty good and the bullpen isn't the best I've seen. The
Phillies
are hardly as much of a lock to hit as you might think.
This Week:
Prospect Review:
Let's go over some of the names in
Mets
camp to keep your eyes on.
Phantasy

Island:
Are There Fantasy Bargains on the New York
Mets
?
Beast of the East:
Let's look at the 5
NL
East teams... shall we?
The Amazing Race:
Updating Everyone on the 2B, Bench, Rotational and Bullpen races