As I talk about these players below as a new potential home-grown force for the Mets I caution those fans who lived through the first Generation K not to slit their own wrists. Let me also just say, "Paul Wilson looks a lot like Mike Pelfrey." Anyway... The old Generation K produced an oft-injured starter, a very good closer and... Bill Pulsipher. It didn't kick off a new Golden Age (First Golden Age?) for Met pitching and they didn't win a fist full of Cy Youngs.
Why should I have faith in this new crop of young guns? Because... well... you shouldn't. History and math are steeply stacked against them. Why do I have such faith? I'm a glutton for punishment. Care to meet them?
Jenrry Mejia - 10/11/1989 (21) AAA

6'0", 160 Lbs Bats: R Throws: R
If you haven't yet heard the name Mejia, you are likely not an East Coast baseball fan. He's not only the Met's top pitching prospect he's among the better prospects overall in the minors. Mejia is all of 21 years old and looks pretty dominant in AAA. His most recent start did begin with an UGLY inning but he followed that with a flawless 4.2 that should put everyone at ease. Mejia is the first pitcher on the list because he's the closest to a finished product and has one of the highest ceilings in the group. His fastball can hit up to 97 and usually sits around 94. He has a plus change up and a curve ball that can be used effectively if sparingly.
Matt Harvey - 3/27/1989 (22) A+
6'4", 225 Lbs. Bats: S Throws: R
Matt has what is known to scouts as the ideal build for a starting pitcher. Something about having a body like the trunk of a tree seems to get scouts all excited. What gets me as a fan excited is his 96-97 MPH fastball, his plus-plus slider and his flawless minor league record. Harvey not only looks like the real deal, he looks like he could be the second closest pitching prospect despite being new to the farm and only in Port St. Lucie. The consensus is that Matt will travel North to Binghamton once Binghamton becomes a little warmer. Once there he could continue to pitch well and see a September call-up (depending on the MLB clubs awful record.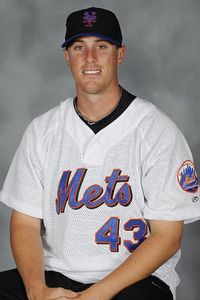 Brad Holt - 10/13/1986 (24) AA
6'4", 194 Lbs. Bats: R Throws: R
Not only do you probably remember this guy, you probably have already written him off. I don't know if I can blame you. In 2008 he obliterated the New York Penn League. In 2009 he fared well in Port St. Lucie and less well in Binghamton. In 2010 he imploded BIG TIME falling back from AA and still doing poorly down in A+ However 2011 has seen a resurgence from Bradley. He's only had two starts but the big stat that plagued him is not cropping up in a big way. He's walking far fewer. His velocity is also supposed to be back (some... not all) and that means that he's back on track to see the majors in 2011 or 2012.
Jeurys Familia - 10/10/1989 (21) A+
6'3", 185 Lbs. Bats: R Throws: R
So... I seriously debated putting Jeurys above Holt but he lands 4th on the list because I think the Mets will try to play it safer with him. Frankly, of all the great season starts for Met minor league pitchers... Familia's is the best. He's through three starts and he's given up
6 hits
. His K/9 is floating just beneath the 9.00 mark where I imagine all front-end starters should be and his ERA... like most on this list is almost non-existent 0.48. Last spring Met officials talked about Familia having the best fastball in camp. His season was not perfect but he had the K's and low-ish Opp Avg that I know he's capable of. If I had to pick which of the pitchers on this short list could be a TRUE ACE... it would be him.
Will any of these young guns turn into the second coming of Ryan and Gooden? Will they provide the home-grown pitching that made Atlanta the most predictable playoff team of a decade? I hope so. Just remember that for every bunch of Maddux, Smoltz and Glavines, there's an equally un-thrilling Jason Isringhausen, Paul Wilson and Bill Pulsipher.