With the
Mets
on a roll it seems like a good time to do some math to see what they are on Pace for. I mean, if everyone can stay relatively healthy... Note, these stats are just simple projections based on their production so far vs. how many at bats I think they COULD reach.
Jose Reyes, SS: 94/6/35/35/47 -
Jose is on pace to have a good year with plenty of stolen bases and runs scored. However I was expecting more. It seemed to me that Reyes' projections would be better. He's really having a great early season and the numbers are merely GOOD. With Bay back in the lineup and with Murphy settling in for support, I'd expect the pace numbers to go up.
Daniel Murphy, 2B: 67/10/77/38/10 -
I think I, Daniel Murphy and most Met fans will sign up for those numbers from Murphy. They aren't blow me away numbers, but they're solid numbers from a 2B. I won't go so far as to say that Murphy could exceed them, but I will say that he is capable of this kind of production.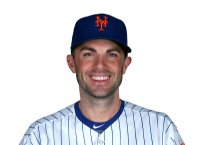 David Wright, 3B: 116/32/97/77/32 -
A 30/30 season? Gee... when you look at the fact David is a career hitter nearly 50 points higher then he's at, this production seems insane. Can he get these numbers? Sure. Can he exceed them? Maybe? You know... if Wright continues to hit well with Bay in the lineup and improves his batting average back to where it's usually sat, he could have TREMENDOUS numbers.
Carlos Beltran, RF: 85/20/66/39/0 -
Beltran will steal a base. It's tough with basic mathematical projections to deal with someone who just hasn't tried something yet. Imagine if I were to project 0
HRs
from Justin
Morneau
? Beltran's numbers are pretty solid but I think the RBI numbers should be a touch higher and if the knee flares up... everything could be much lower.
Jason Bay,

LF

: 118/24/71/47/0 -
Okay... so Bay's small sample size skews the numbers and they look all sorts of strange. We're working with what we have. If Bay continued on this pace the Flushing Faithful would likely issue a pardon to Bay for 2010.
Ike Davis, 1B: 89/28/124/83/0 -
So... the stolen base numbers are accurate. Could Ike be that good? I think he could be BETTER. I mean, I think Ike has the power to lead the team in homers so that 28 could easily be eclipsed by something on the brighter side of 35. The other numbers reflect Ike's improved discipline at the plate, which is hard to deny.
Angel Pagan, CF: 46/7/39/59/26 -
I have to believe that Angel is better than this, but at the same time... I can't predict EVERYONE to have a good year. So if I can get those big years I've already listed above, I'd suffer with a diminished Pagan... at least until we promote Captain Kirk.
Josh Thole, C: 22/0/50/29/0 -
Another victim of a slow start, Thole has proven to still be a clutch hitter and is learning to adjust to pitchers now that he's a known quantity. I would imagine that he'll exceed these numbers easily even losing additional playing time to
Paulino's
bat.