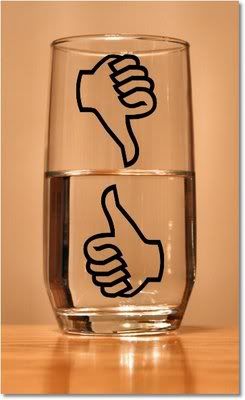 Being a Met fan and an
optimist
is a bit difficult. The
Mets
aren't exactly awesome at doling out the feel good games and consistent wins. It's actually quite easy to be a Met fan and a pessimist. The
Mets
are in last place, they have really only looked good against Arizona, Reyes is likely leaving, Wright only knows how to strike out and the stands are as empty as a campus library on free taco day. So... here are a few reasons to buck up.
The
Mets
are 9 and 13 after winning four straight. That means that we were recently 5 and 13 with almost no reason to field a team. They are in last place and, as you might expect, the 4 Ace
Phillies
are in first. Why should you be happy?
Have you heard? Jason Bay is back.
David Wright is lining up to have excellent production.
Jose Reyes looks like an All-Star again.
Carlos Beltran is healthy.
Chris Young is back.
Dillon Gee looks like a real-deal

MLB

starter.
Mike

Pelfrey

and Jonathan

Niese

might not be heading for the glue factory.
Pedro

Beato

looks like an A+ Rule V pick.
K-Rod has trade buzz.
Luis Castillo and Ollie Perez are gone and never coming back.
Haven't we already been through the ringer with most of these guys? This team was supposed to have a lot of talent on it and they are only 8 and 11. Fernando Martinez is the biggest name on the roster and he's already been hurt this year. Why should you be happy?
Kirk

Nieuwenhuis

is hitting a lot (15-game hitting streak)
Kirk

Nieuwenhuis

is hitting for power (8 Doubles 3

HRs

)
Fernando Martinez is back (also hit a PH HR)
Ruben

Tejada

has become a hitter.

Jenrry

Mejia look like he'll be ready for the

MLB

rotation later this year.
Chris

Schwinden

and Jorge De La Torre look like they could be solid

MLB

bullpen guys.
Another sub .500 team? Am I supposed to buy that the team will produce stars when they can't beat other AA teams? The top player is some kid I've never even heard of. Why should I be happy?
Joshua Satin named EL player of the week.
He's hitting .327 and powering the offense largely alone.
He and I have similarly massive eyebrows.
Alright... the real reason. PITCHING!
Brad Holt (Remember Him?) 0.50 ERA, 18

IP

, 14 Ks, 0.78 WHIP.
Mark

Cohoon

0.47 ERA, 19

IP

, 20 Ks, 1.00 WHIP.
Robert Carson 1.69 ERA, 16

IP

, 16 Ks, 1.19 WHIP.

Jordany

Valdespin

is walking more? (And hitting less)
Wait... this team doesn't fit. They're 17 and 2. The team has 9 players hitting over .280. The team has 4 starters with
ERA's
under 4.00. Clearly this team will have a few things to be happy about.
Pedro Zapata is a base stealing CF. He's hitting .400 and has stolen 8 bags in 8 attempts.
Francisco Pena has the body for power and is at least hitting for average.
Matt Den

Dekker

has good gap power and excellent tools.

Jefry

Marte

is exceeding

every one's

expectations and basically re-establishing his value.
Wilmer Flores started slow, but has heated up. The power will return this is how he typically finds his groove. (He's hitting .297)
Caesar

Puello

is also finding his groove and looks to be turning the corner in A+.
Matt Harvey... He's 4 and 0 in 4 starts. He's got a 0.00 ERA with 27 K's in 22 innings. This is his first year in the minors and he's already demanding to move up in the system. (Not verbally)

Jeurys

Familia

... He's had less luck in his starts. He's only 1 and 0 but his 0.35 ERA and 25 Ks are pretty sweet. Sweeter still is his 0.62 WHIP.
Nicholas Carr is establishing himself as a potential late inning relief man.
So... always remember that if you look hard enough, there are plenty of things to find to make you happy.